ISBN 97819067898791
Jacket illustration from Shutterstock
Top of Page
Book Covers
The Cuckoo's Daughter
This romantic historical story will be greatly enjoyed by young teens and adults.
It's based on a true story set in 1799.
When Louisa is called "The Cuckoo's Daughter" by a fairground gypsy, she is surprised and angry. Now sixteen, she has lived all her life on a farm with her foster-parents and family but they refuse to tell her the names of her real parents. She longs to find out who they were. Discovering a hidden miniature portrait, she wonders if it is of her mother, but she still meets a wall of secrecy.
She falls in love with handsome Godfrey Macdonald but her foster-father refuses to allow them to marry and sends her to a horrible boarding-school. Will she be brave enough to escape the school and elope with Godfrey, leaving the only family she knows and the foster-sister she loves? And will she find out the truth about her real parents?
Publication
Country Books 2013
Price £6.99
To purchase this book from the author email: griseldagifford@aol.com
To purchase this book from the publisher visit: http://countrybooks.biz
To purchase this book on-line at Amazon click
The Cuckoo's Daughter


REVIEWS:
"The story is very well told. l am enjoying every page…."
Sir Michael Holroyd
ISBN 1842 704591
Jacket illustration by
Robert Mullan/
Alamy
Top of Page
Book Covers
House of Spies
It's wartime Britain and Pip has been evacuated to the country where she meets a new friend, Harry, the girl at the farm. The war has touched them both. Harry's father has lost part of his arm and an eye at Dunkirk and Pip's father has fallen for someone else while serving abroad. But the girls have other concerns.
There is a boy living in a remote farmhouse where the family are stigmatised by the locals as enemy aliens and possible spies. When bombs start to fall, an angry mob descends on them.
A thought-provoking, compelling read with a highly topical theme of prejudice in wartime from this popular writer.
Publication
Andersen Press 2005
To purchase this book on-line at Amazon click
House of Spies
REVIEWS:
"... My only criticism is that the book is too short! Griselda G
ifford has packed so much into this exciting read that it could have been twice the length."
Mary Hoffman, ARMADILLO
" ... I enjoyed this book hugely, and it shows a completely different view of the war, not to mention asking very important questions about people in wartime. A very good exciting read, quite unputdownable!"
Bettina "ilemauzar" (from AMAZON)
" ... The dropping of an incendary bomb brings issues to a head in this lively and thought provoking novel about the domestic fronts."
Marianne Adey, CAROUSEL
"…Griselda Gifford's latest book visits a troubled community battling with the very real challenges of wartime. ... The threat of an adult lynch-mob builds cleverly through the book as it heads towards its conclusion. …the relationship between Pip and Harry has a real intensity but the book also ends with an insightful ambivalence about the way in which the girls' friendship might develop. This may be a girls' adventure story but it is not all jolly hockey-sticks."
ACHUKARE REVIEWS
ISBN
1842 703838
Jacket illustration by
Getty Images
Top of Page
Book Covers
The Silent Pool
Identical twins, Charlie and Cass, have taken sides and quarreled when their parents split up and are staying with Gran for the summer holidays. Charlie explores the area, and in trespassing in the grounds of the local stately home, Cleremont Park, she starts to see ghosts. The ghosts always do the same thing and, as she learns more about the history of the place, it becomes clear that they are re-enacting events leading to an unsolved murder.
She finds that she must work with her twin and seek to solve the disappearance of the present owner of the Park.
- A new chilling murder mystery and ghost story from this compelling writer.
Publication
Andersen Press 2005
To purchase this book on-line at Amazon click
Silent Pool
REVIEWS:
"This is an engaging mystery that runs alongside a story of coming to terms with family break-up and trying not to take sides between mum and dad."
TIMES EDUCATIONAL SUPP.
"Griselda Gifford writes well and convincingly."
SCHOOL LIBRARIAN
"Unravelling the crime of long ago brings danger"
THE TEACHER
"... This book would be enjoyed by readers of eleven years and upward as there is plenty of a contemporary nature and may touch on their own experience, also happenings which are of more sinister and chilling nature that will keep them interested and reading"
Isobel Dams, WRITE AWAY
"This is a creepy ghost mystery that shouldn't be difficult for readers fifteen and older. Some strange things happen that you might not understand at first, for example, when Charlie puts on a ghost's hat and becomes the ghost. There might also be some words about ghosts and British village life that you don't know. The Silent Pool is a great ghost mystery that's perfect for Halloween."
SPOT ON (German Teen magazine)
"... spooky stuff all right, and if you like a really good mystery book, you are going to love this one."
Epping Independent
ISBN 0582796350
(Independent Plus Stage)
Jacket illustration by
Angela Thompson
Top of Page
Book Covers
Francis the Hero
Francis has always dreamed of being a hero. When his family falls on hard times, he seizes the opportunity to help but gets tangled up in a web of deceit.
When disaster strikes and he is surrounded by danger, it's time to prove whether he really has what it takes to be a true hero.
Publication
Pearson Longman
Streetwise 2004
A Historical Novel
To purchase this book on-line at Amazon click
(Independent Stage)
Jacket illustration by
Stewart Lees
Top of Page
Book Covers
The Secret of Monk's Island
"I had one of my weird feelings that sent icy fingers down my spine. I could see danger ahead."
Sam and her family are on holiday at the Monkswell Guest House, and some very mysterious things have started to happen. Down in the cellar lies a monk's carved box — undisturbed for centuries until now.
Once it is opened, Sam is racing against time to discover the secret of Monks Island.
Publication
Pearson Longman
Streetwise 2003
An Adventure Novel
To purchase this book on-line at Amazon click
REVIEWS:
"Mysterious, interesting, fascinating, enjoyable and … funny. I haven't felt like this after I've read a story"
Hazera Begum, Gayhurst School
"Fast-moving and action-packed,"
Akhil Nair, Eversley School
Jacket illustration by
James Fraser
Top of Page
Book Covers
Second Sight
Jo and her family have just moved to a cramped inner city flat. She is beaten up and abused by the bullies in her new school and her home life is just as difficult. Her little brother Doddy was rendered speechless in a car accident just prior to the move and her mother was also injured.
Their father was left behind in the old house, and seems too far away to be any help. Then Doddy buys a mysterious Eye at the Church bazaar, which gives
anyone holding it the gift of second sight. Jo now has the power to solve her problems - but does she really want to use the knowledge that she gains?
Publication
Andersen Press 2003
To purchase this book on-line at Amazon click
Second Sight
REVIEW:
"Jo is an appealing narrative voice and the novel will appeal to girls of 10-13 who enjoy fiction based on relationships."
SCHOOL LIBRARIAN
"... it is the writer's gift to share the interior lives of her characters with such skill and sensitivity and the reader's gift to enjoy the responsible and perceptive psychological narrative."
Mike Maran, CAROUSEL
Jacket illustration by
James Fraser
Top of Page
Book Covers
River of Secrets
Fran is very upset because her mother has remarried and she has to live with her stepfather and his son at her gran's old home. She was very fond of her gran, who has recently been found dead in the nearby river.
Was her death an accident? Fran is sure someone is to blame and she's determined to solve the mystery.
Is the weird girl, Fay, who lives next door, hiding something?
And why does another new friend, Denny, warn her against Fay's strange magic?
Fran faces danger when the river almost claims a new victim, before she finally unlocks its secrets in a surprising and exciting climax to the story.
Publication
Andersen Press 2002
To purchase this book on-line at Amazon click
River of Secrets
REVIEWS:
' ...for under 12s ... River of Secrets ... avoids the clichés of the genre, partly a detective story ... a moving tale with ... supernatural undertones, of coming to terms with the changing patterns of life and death.'
Sue Elkin, INDEPENDENT
'... Written in an easily digestible, modern style this slightly mysterious, seriously sensitive story should suit 9 to 13 year old readers.'
Barbara Hollands, DISPATCH ON LINE
'.In this nail-biting novel, you're taken on a very odd adventure with our wicked hero, Fran. As she tries to unravel the confusion surrounding her Gran's death, she begins to wonder whether her next-door neighbour knows more than she's letting on. Don't read this at bedtime - it'll give you nightmares!'
MIZZ MAGAZINE
"... There is plenty of action in this novel which is highly readable. We are part of Fran's fears and concerns about how her grandmother died, yet the story seems comfortingly rooted in ordinary family life. There are resolutions of the conflicts between the main characters but all ends happily with a surprising climax. A good read for KS2 and 3 readers."
Ann Trevenen Jenkin, SCHOOL LIBRARIAN
Jacket illustration by
Hogan Brown
Top of Page
Book Covers
Danger at the Doghouse
Forbidden a pet, Jo hides an abandoned puppy, Pan, in the allotment shed. When her parents find out, he has to go, but her friend Mitch takes him to the family boarding-kennels, the Doghouse.
Meanwhile, Jo's elder sister, Lyn, slips off with Andy and his friends, who spell trouble. Are they the vandals responsible for various local crimes? And who is leaving mysterious coded messages?
Is the Doghouse in danger?
Publication
Andersen Press 2000
To purchase this book on-line at Amazon click
Jacket illustration by
Tracy Fennell
Top of Page
Book Covers
The Skeleton Upstairs
When Bernie and her mum inherit Aunt Addie's home, it seems too good to be true. But strange noises in a locked attic, followed by a visit from a mad old woman making accusations, don't make for a promising start. Then a ghostly train crash begins to haunt Bernie. Could Aunt Addie's dark secret be the cause?
Publication
Cambridge U Press Moonstones 1993
(age 10+)
Jacket illustration by
Mary Raynor
Top of Page
Book Covers
Revenge of the Wildcat
When Tim's family is on holiday at the Macpherson house in the Highlands, he is surprised and angry to find Alan Macpherson so resentful towards him. But when Tim discovers the nature of Alan's secret they join forces and become involved in a mystery that is stranger than either could have imagined. Tim keeps seeing a strange woman who is running in terror from someone or something. But who or what is it— and why can no one else see her?
But the dramatic events are not confined to the children alone. Tara the wolfhound adopts Tim's little terrier, Lucy, whilst Lucy adopts a wildcat kitten and saves its life.
Publication
Cannongate Press Kelpies1991
REVIEWS:
" ... substantial in manner and content...well-wrought and personal prose."
ISBN 0333 418921
New Way(Violet Level)
Jacket illustration by
Frances Thatcher
Top of Page
Book Covers
Clarence the Crocodile
Clarence is lonely because he is the only white crocodile in a family of green ones. He searches the jungle until he finds a family of white crocodiles and makes friends with Emily, who is sad to be the only green crocodile in her family. They marry and have one green baby, one white and one striped. "If all crocodiles were striped, none of them would be lonely," said Clarence.
Publication
Macmillan Education 1987
ISBN 0333 418905
New Way (Violet Level)
Cover & Illustrations by Linda Birch
ALSO
Illustrations by
Shirley Bellwood
Top of Page
Book Covers
Helpful Harry
and
The Magic Hole in the Wall
(cover title "Helpful Harry and other stories")
Publication
Macmillan Education 1987
Republished
Thomas Nelson & Sons Ltd
1992
ISBN 0174 225288
New Way (Yellow)
Illustrated by
Pat Nessling
Top of Page
Book Covers
Not too young
Selina was tired of being the youngest in her family. The friendly old lady next door explained that being the eldest could be even worse.
Later, when the old lady became ill, Selina showed she was not too young to saved her life.
Publication
Macmillan Education 1987
Republished
Thomas Nelson & Sons Ltd
1992
New Way (Yellow)
Illustrated by
Julie Park
Top of Page
Book Covers
Miranda's Monster
The baby monster had lost its mother, and Miranda takes pity on it. The Monster has some strange tastes in food, and soon presents Miranda with a HUGE problem!
Publication
Hodder and Stroughton Children's Books 1987
New Way (Orange)
Cover by
Design works, Reading
Top of Page
Book Covers
.
Publication
Macmillan Education 1987
ISBN 0333 418697
New Way (Blue)
"The Little Dancer and other stories"
Cover by
Design works, Reading
Top of Page
Book Covers
The Magic Pet
(cover title "The Little Dancer and other stories")
Mum said Jane could not have a puppy and Jane was sad. Later Jane found a white rabbit in their garden but mum said they must put a 'found' notice in the shop. What happened next? Did Jane manage to keep the rabbit? Well, ... sort of.
Publication
Macmillan Education 1987
ISBN 0340 395044
Jacket illustration by
Alicia Garcia de Lynam
Top of Page
Book Covers
Too Many Grans
Luke's two Grans were as different from one another as chalk from cheese, and he liked both of them. But when they came to look after him at the same time then the problems really started! Who did he like best?
Chocolate Gran or Jelly Gran?
Publication
Hodder & Stoughton 1986
ISBN 0862 410940 (age 9+)
Jacket illustration by
Jill Downie
Top of Page
Book Covers
The Story of Ranald
After the battle of Culloden, Ranald Macdonald and his family are forced to flee their homes to escape the barbarities of the cruel English soldiers under the command of 'Butcher Cumberland'.
With his father held prisoner in Carlisle, Ranald finds his former life, as a carefree young boy, must change if he is to protect and assist his womenfolk in their perilous quest for freedom.
This is a true story based on Ranald's own account written in 1749, two years after his escape. It gives a rare insight into how it must have been to leave a beloved home and country as a fugitive never to return.
Publication

Cannongate Press Kelpies1985

REVIEWS:

" ... Based on young Ranald Macdonald's own account of the journey, this human document is warm in every detail because it is written from the inside.
... their father is tried and executed as a traitor ... and their stepmother takes the agonizing decision to send sensitive, unsoldierly Ranald and his little sister Kattie into "exile" in Cumberland. This is living history, poignantly related by an author who has respect for source material and can keep it alive when translating it into fiction."

Times Literary Supplement

"...most beautifully told, though intended for the younger reader, it is hard to imagine anyone not being affected by it. There are scenes..that have a timeless quality that live on in the imagination... "

Leon Garfield Guardian

.

"This narrative owes its excellence to a very sure historical imagination..."

Growing Point

"..a good example of the kind of literature which really contributes to understanding of history..sensitively told by a writer who knows children and their difficulty in living up to their intentions...makes a reality of the aftermath of war."

Teachers World
ISBN 0333 377206
Level 3

Jacket illustration by
Stephanie Harris
Top of Page
Book Covers
Two of a Kind
Publication
Macmillan Education 1985
Jacket illustration by
Peter Rush
Top of Page
Book Covers
Pete and the Doodlebug
What would you do if your leg was in plaster and you couldn't climb down the rock face to help your two friends who were stuck — and there was an air raid warning? Or you found a cow on the line and there was a train coming? Or you longed to be a brave heroine, but people laughed at you because you were a clumsy, dreamy girl?
Griselda Gifford tells what Pete and Dan and Elizabeth and some others did in just such situations. Here are seven stories about children having adventures and facing up to hard and difficult things which might be problems to many people. Two of the stories are set during the last war, and the rest take place in the present.
This is a splendid collection which will be particularly enjoyed by those readers who like characters they can say are 'just like me'.
Publication
Macmillan
Children's Books 1983
REVIEW:
...graceful prose that bears the impress of a particularly discerning eye on the doings of children and a discriminating taste in words...A book of quiet veracity and humour.
JUNIOR BOOKSHELF
Jacket illustration by
Sally Holmes
Top of Page
Book Covers
The Magic Mitre
The mitre that Em's father buys when he is made a bishop reveals a magic quality. It will grant wishes made by its wearer. Unfortunately, Em and her father soon discover that wishes can easily get out of hand.
Publication
Hamish Hamilton
Children's Books 1982
REVIEW:
" ... mixes magic with fantasy in the mind of the child, cleverly using the well-worn theme of 'three wishes' woven into sensitive variation ...
GUARDIAN
(age 8 to 10)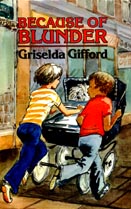 Jacket illustration by
Mary Raynor
Top of Page
Book Covers
Because of Blunder
Ten-year-old Vicky has moved to a new noisy town. She's lonely until she meets Sandy, the boy from the Home. Together they form an animal rescue club to save Blunder, the dog next door, who seems to be ill-treated. Blunder is large and bouncy and it's very difficult to keep him secret. Then the owner reports him missing and Vicky and Sandy are in danger of being accused of theft. Vicky decides they should run away with Blunder. It would be a great adventure, and anyway Sandy wants to try and find Uncle Alfred, his only living relative, whom he hasn't seen since he was little.
They set out full of confidence but soon find that running away has plenty of drawbacks. However, it's too late to turn back—the police might be waiting to arrest them and send them to prison, and then what would become of Blunder?
Griselda Gifford combines humour and sympathy in this entertaining adventure story.
Publication
Victor Gollancz 1982 (and also Puffin Books)
REVIEW:
"The author touches on homelessness, unemployment, poverty, colour and rivalry between children without in any way detracting from a simply told and enjoyable story. Nothing is overstated; the book forms a harmonious whole. A story of almost universal appeal to the reader of eight and over"
School Librarian
" ... After many adventures which are told humorously and with sympathy, all turns out well with Vicky's parents coming together in their common anxiety, Sandy finding his uncle and Blunder, the cause of it all – being adopted.
JUNIOR BOOKSHELF
.
ISBN 0582 184177
Whizz Bang Series
Jacket illustration by
Robin Jacques
Top of Page
Book Covers
The Rescue
Josh, Biddy and Sam cannot understand why the new lady in the top flat is so unfriendly.
She goes out to work in the morning and comes back at lunchtime. She doesn't speak to anyone.
A little girl is left locked in the flat. She never comes out to play. Josh, Biddy and Sam are convinced that she has been kidnapped. But how can they rescue her?
Publication
Longman Group 1980
Jacket illustration by
Mary Raynor
Top of Page
Book Covers
Silver's Day
At the beginning of the school term, Cass befriends new girl Flora whom the other pupils laugh at because of her odd appearance. Despite her mother's reluctance to let her ride, Flora reveals an unexpected talent with horses, and soon she is helping Cass to train her old pony, Silver, for a forthcoming horse show.
Cass solves the mystery of Flora's occasionally strange behaviour though several questions remain to be answered. Why won't Flora talk about her father? Will Silver win an event at the show? And who is the strange man Flora meets there? When Cass's baby brother falls seriously ill, Cass, Flora and Silver take desperate action and several mysteries are solved.
Readers of Griselda Gifford's previous novel, Cass the Brave, will already be familiar with the impetuous Cass, her more sensible twin Carrie and the rest of the Vicarage family. And new readers too will be delighted to make their acquaintance in this lively and entertaining novel for the younger age group.
Publication
Victor Gollancz 1980(and also Puffin Books)
REVIEW:
"A straightforward tale. . . entertainingly written and the simple realism of its setting is backed by considerable insight"
Times Literary Supplement
" … an exciting story about real people in real situations."
JUNIOR BOOKSHELF
"Deft characterisation, variety of situation, wryly amusing style."
NATIONAL BOOK LEAGUE
(age 8 to 10)
Jacket illustration by Carol Lawson
Top of Page
Book Covers
Jenny and the Sheep Thieves
Jenny is convalescing on her grandparents' farm. Grandpa is very worried by the disappearance of sheep from the neighbouring fields and blames it on the people from the 'New City' who he feels are invading his peaceful countryside. Jenny makes friends first with Ann and Piggy and then with Laurie and Davie, who have tried to kidnap her doll. She tells them about the sheep stealing and they decide to form a gang to watch out for the thieves. To Jenny's annoyance, Laurie immediately takes charge, but then comes the chance that Jenny has been waiting for...
Publication
Victor Gollancz 1980
REVIEW:
"The book, well adapted to a junior readership, nevertheless has that little bit extra, of feeling and psychological implication, that inner balance, that marks it cut from the general run of stories for the middle years"
Margery Fisher, Growing Point
ISBN 0575 025514
(age 8 to 10)
Jacket illustration by
Mary Rayner
Top of Page
Book Covers
Cass the Brave
Cass and her twin sister Carrie leave London for the country where their father has become Vicar of an ancient church. On her first evening there, Cass picks a leaf from St Govan's fig tree despite a warning prophecy that "he who picks a leaf will need a hearse". Soon her time is fully occupied with choir practices, a visit from the Bishop, adjusting to life with a new stepmother, coping with the lodgers and even a haunting! She makes a new friend, too, a strange boy called Matt who owns an old, white horse. But at the back of her mind, the threat of the fig tree is constantly present ...
Besides being an exciting adventure story, Cass The Brave is an entertaining account of the life of an accident-prone ten-year-old with a new mother, a conscientious father, and a saintly twin sister to contend with.
Publication
Victor Gollancz 1978
REVIEW:
"Twin sisters go to the country where their father has become vicar of an ancient church – and one picks a leaf from a fig tree despite a warning prophecy…an exciting adventure tale."
The Star, Sheffield
"... a quieter, more domestic tale but has acute observation of a ten-year-old's feelings and actions which will ensure the involvement of the young reader. Griselda Gifford manages to produce a good story about and for real children while introducing deeper themes to give the plot more substance…"
"An exciting adventure story … gives a very entertaining and sometimes very funny picture of a mischievous child."
Reading Time
ISBN 0575 020911
(age 8 to 10)
Jacket illustration by
Jael Jordan
Top of Page
Book Covers
Mirabelle's Secret
The beginning of the summer the worst possible time to have your tonsils out, especially when all your friends are going on the Brownie holiday without you. At least, that's what Jenny thinks, until she actually gets to hospital. There she quickly makes all sorts of new friends. The most important of these is of course Mirabelle, the girl in the next-door bed. She has a special secret which she promises to tell Jenny after the operation. But Mirabelle is sent home before she can tell and no one seems to know her address.
By now Jenny has forgotten all about the Brownie holiday. She has to find out Mirabelle's secret, and as soon as she leaves hospital she sets out to do a bit of detective work on her own.
The story is illustrated with line drawings by Jael Jordan.
Publication
Victor Gollancz 1976 & 79
REVIEW:
"A story of twin sisters, one of whom is much more impulsive than the other. A good enjoyable story for the nines and upwards"
Junior Book­shelf
'-An authentic, wryly funny look at village-vicarage life"
—Education Gazette
"There are very few good children's books for the middle age-range (8-l0s), let alone good non-sexist ones, but Griselda Gifford's Mirabelle 's Secret is a exception. This is the second book about Jenny, who featured in her excellent Jenny and the Sheep Thieves"
Issues in Race and Education
... warmly recommended"
—Children's Rights Workshop
"Jenny has to have her tonsils out and at the hospital she meets another little girl, Mirabelle. After their return home, they eventually find one another again, and Jenny is able to join in the display given by Mirabelle's dancing class which was her'secret'. It is a straightforward story of life in the less prosperous part of a cit but the characters and events are treated with great insight. I particularly liked the description of the noise and apparent confusion of a children's ward, seen from the patient's point of view."
THE SCHOOL LIBRARIAN
030070
Jacket illustration by
Jill Bennett
Top of Page
Book Covers
Earwig and Beetle
The story
Jake didn't want to go to Brightsea School. He didn't want to live in Brightsea, for that matter—especially without Dad—and he was furious with Mum and drippy old Seabag and just about everyone else he could think of.
He soon found that the only other new boy in the class hated Brightsea just as much as he did, and together they plotted revenge. Adiz was a difficult friend to have. He seemed so fearless and determined, and had such good ideas that Jake had trouble matching them. Indeed, just the thought of what they'd planned for Sports Day made him feel ill.
This funny, thoughtful school story is complemented by Jill Bennett's marvellous line drawings.
Publication
Victor Gollancz 1981
REVIEW:
"Astute and accurate, sad and funny, a story very much from the child's angle ... an engaging wry study of a schoolboy for whom adult behaviour is inexplicable and catastrophic— and of his black friend who needs no one's patronage"
Leila Berg
Times Educational Supplement
Jacket illustration by
Robert Micklewright
Top of Page
Book Covers
Ben's Expedition
All the Taylors had measles, except Ben. With his brother and sister in bed with measles and his mother far too busy minding them to bother much about him, it was not long before Ben had his great idea: he would go on an Expedition down the river.
The first thing was to build a raft, which turned out to be more complicated than Ben had expected, but even when he had managed to get afloat the Expedition still went rather wrong and Ben found himself having to apologise to Colonel Hardy for some damage he really hadn't meant to do. But in the end this turned out to be a stroke of luck, for the Colonel knew all about Expeditions, and soon Ben, the Colonel, and the Colonel's large and useful Great Dane were well on their way to making an exciting discovery.
Publication
Bodley Head 1965
Also Translated & Published as
Jacket illustration by
Gunilla Hansson
Natur och Kultur 1969
REVIEWS
'... well-written with its flexible rich prose and its warm-hearted story that bridges the gap between age and youth. Ben Taylor, at a loose end while brother and sisters have measles, decides to build a raft and venture down river. Building, launching and punting all lead him into trouble but Colonel Hardy, who might well have been difficult about his broken fence, proves to have an appetite for adventure as keen as Ben's and the two, accompanied by the Colonel's affable Great Danes, set off on a journey described by a writer who has obviously not forgotten how much the young enjoy the casual and the unforeseen'
GRowing Point
' ... beautifully printed with the kind of black-and-white illustrations that somehow look as though they were coloured; a gentle story of Ben's expeditions down the river…' .
Times Literary Supplement
ISBN
Jacket illustration by
Barry Wilkinson
Top of Page
Book Covers
The Mystery of the Wooden Legs
All Sue could see from the window of the basement flat where she lived with her mother were two dustbins, a stone wall with railings at the top—and the legs and feet of the people walking past. One morning Sue saw something very odd. Two sticks were walking along the pavement and just behind them were four furry paws, followed by the wheels of a tricycle, two small feet in very dirty sandals and a 'rope' which suddenly twitched at the tip. Solving the mystery of the wooden legs brought Sue some much-needed friends and introduced her to the exciting life of the circus.
Publication
Bodley Head 1964
REVIEW:
'Griselda Gifford's first children's book was The Youngest Taylor (see below). Her second book has that same sense of fun and shows the same understanding of children. She joins the Acorn Library with a winner.
The Teacher
'... Firmly rooted in every day, the story has just a touch of surprise to engage a young reader and the simple, attractive style is just right.'
ISBN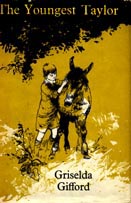 Jacket illustration by
Victor Ambrus
Top of Page
Book Covers
The Youngest Taylor
The youngest and quietest of the Taylor children is Hen. He loves making plans and one summer a book he has been reading gives him the idea of organising the escape of two small, unhappy schoolboys he has seen behind the railings of the boarding school in the village where the Taylor family live. Ben keeps his plan a secret from everyone, creeping out after tea every evening to work. But his brother and sisters will not leave him alone. His bouncy sister Tigger is always starting quarrels which usually end in an evening 'curfew' for all the children, and his other sister Ann badgers him for help with her plans for rescuing stray or neglected animals. Ben finally has to play truant from his school so that he can complete his project and start the rescue of the escaping prisoners, who suddenly become unexpectedly reluctant and uncooperative. The great escape ends with a hunt across the countryside in which the village policeman, the headmaster, a donkey, Ben's mother, and his elder brother Simon's extraordinary invention all join in following Ben's carefully-laid secret trail.
This is Griselda Gifford's first book. She writes with a gentle and affectionate sense of humour and a shrewd insight into the problems and frustrations of being the youngest in a family.
Publication
Bodley Head 1963
REVIEW:
'Ben Taylor, the youngest of the family, is a quiet boy and a dreamer. He makes plans to rescue two boys from a private boarding school, seeing them as victims of hard taskmasters in a modem Dotheboys Hall. Half the village becomes involved in the ad­venture before the story reaches its happy ending.'The author understands her children, particularly her problematical hero, and she writes with perceptive humour about the difficulties of being the youngest of a rumbustious family.'
The Teacher
" ...This story is as much about the elder brothers and sistrs as about ten-year-old Ben, and Miss Gifford skilfully sketches in their characters and records their quarrels with an accuracy that makes one wince…"
Times Literary Supplement